Just a Minute (1967-Present) is frankly a marvel. For any show to have survived 50 years is rare, for only to go that long without any major alterations in style and format is extraordinary, for it to be hosted by the same individual since its creation is, I think, unique. However, is Just a Minute really as good as the records seem to indicate, or is it utterly overrate?
Just a Minute is a Radio Four panel show, though multiple TV editions have been made, featuring four panellists and host, Nicholas Parsons. The rules are simple, participants must speak for one minute on a given topic without repeating words, deviating from the subject, or hesitating, although they may repeat the subject on the card.
Just a Minute is perfect. That's all there is to it, is just a perfect format, utterly flawless in almost every way. Nicholas Parson's is the perfect host, he's what's known as a straight man, panellists often make jokes at his expense and he handles it wonderfully. Parson's is a consummate professional and a gentleman, treating every panellist with the same kindness and respect he undoubtedly deserves. The format to Just a Minute is perfect in its simplicity, the rules seem easy enough at first glance and a minute doesn't seem that long a time to speak non-stop but it's a difficult thing to do, only a few panellists have ever managed it more than once in the show's 50 years. It's tempting to say that Ian Messiter, Just a Minute's creator knew the brilliance of what he had done. Not only is it entertaining to hear people attempt to go for a minute without breaking any of the rules, but the format is such that everyone, regardless of comedic style, can do it. On any given panel you can have people like Paul Merton, Julian Clary, Gyles Brandreth, and David Mitchell, all of whom have very different comedic styles and manners but can play the came without altering them in the slightest, it's a game truly anyone can play.
The strength of the format is even greater given the fact that Just a Minute can work in any media. Obviously, it was made for Radio given that it's a verbal game but it works equally well on television and even on stage. Respect must also be given to the shows longevity, a rare thing to find in any show, least of all one as simple as Just a Minute and it serves as a testament to the skill of those involved and the strength of the format. The theme tune is also perfect, Chopin's Minute Waltz is a natural choice and sets the show up as a relaxing, informal, verbal dance. It's now almost impossible to separate the show from the waltz.
There are, however, a few negatives. Nicholas Parson's playful flirting can be a bit awkward at times but given that he does so respectfully and is a man fast approaching his 100th year, is far from as problematic as it might be, especially when one considers that Just A Minute Actually has one of the highest percentages of female participants of any panel show. The big elephant in the room, however, is Clement Freud, easily one of the most entertaining and skilled players of the game. In 2016, Sir Clement Freud was exposed as a prolific sexual predator who violently raped at least two young girls and has even been tentatively linked with the disappearance of Madeline McCann in 2007.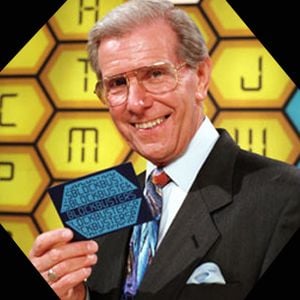 Naturally, this revelation meant that many of the shows episodes are now near unwatchable and given that Freud was a regular from 1967 to his death in 2009, that constitutes a significant number of shows. However, even this is something of a marvel, after all, 51 years, hundreds of panellists, and only one child rapist? That's quite the record given that apparently everyone who was even slightly famous in the 1970's alone was apparently Sidney Cooke.
I hope Just a Minute will continue on but I fear when Nicholas Parsons dies, the show will be left in the same sort of weird limbo Britain will find itself upon the death of the Queen. Parson's has been doing the same job for 50 years, he's such a perfect fit that it's difficult to think of anyone else who might come close to filling that role as well as he does, and so I suspect Just a Minutes worst days are ahead of it. However, for a 50-year-old show that has changed barely one iota, I wouldn't be surprised if it managed without him, somehow.
A perfect show that is only weakened by the activities of one terrible man, its like the shark of the panel show genre, ancient, iconic, and so perfect it has never needed to evolve.
10/10