The two soaps I've seen the most of are Coronation Street (1960-Present) and Eastenders (1985-Present) and while I will be talking about EastEnders later on, today I want to look at something Coronation Street related. Soap characters are some of the most iconic in British television, after all, we see them almost every day, follow them in their daily lives and through both the hard times and the easy, and know them better than our own neighbours. In respect of that, I'm going to count down my five favourite Coronation Street characters. Why top five? Well, frankly I never saw THAT much of Coronation Street, I've seen a few hundred episodes and don't have enough information to pick 10 or 20 characters. In addition to this, soap characters don't tend to have the emotional and psychological depth that you find in other fictional characters, due mainly to the fact writers change so often so we tend to get a very mixed view of these characters. Regardless, these are my top five favourite Coronation Street characters.
5) Jim McDonald (Charles Lawson, 1989-2000, 2003-2005, 2007-2011, 2014, 2018)
It's a running joke that Jim McDonald has been in and out of Coronation Street more times than the postman, and looking at those dates I can see why. Jim McDonald is not an especially nice guy, he's constantly in and out of prison, beat his wife, sold an alcoholic illegal booze in prison, beat up his wife's new husband, and most recently, tried to con his wife and son out of their savings by claiming to have discovered their now adult daughter who had apparently died at birth. So yeah, you might be wondering why he's on this list. Well, Jim's oddly likable. I suspect it's almost entirely due to his Northern Irish accent and mannerisms, which together make him a far more affable character he has any right to be, after all, it's somewhat easier to like someone when they refer to everyone by their full forename and his habit of finishing sentences with "so it is", "so they are", "so I will" et al. With a character so obviously obsessed with his ex-wife, to a dangerous extent, it is so easy for him to be a threatening and unlikable figure, but Charles Lawson's performance makes him a likeable and enjoyable presence in the show, and I for one can't wait for him to come back again sometime in the future.
4) Richard Hillman (Brian Capron, 2001-2003)
Richard Hillman is a fascinating character. Regarded by many as soaps greatest villain, Richard Hillman is the missing link between classic soap villains and new soap villains. Let me explain. Before Hillman became popular, soap villains were largely very realistic characters; people like Terry Duckworth, Nasty Nick Cotton, Alan Bradley, and Dirty Den Watts, weren't supervillains, they were conmen, thugs, and domestic abusers. After Richard Hillman, we get a different type of soap villain, characters like Archie Mitchel, Pat Phelan, Nathan Curtis, and Lucas Johnson, while all based on some real type of criminal, are closer to Hannibal Lector than the soap characters who went before them. Richard Hillman bridges this gap. Hillman is introduced at the funeral of established Coronation Street character, Alma Halliwell, as a financial advisor who later goes on to marry Gail Platt. Unbeknownst to Gail, Richard is in deep financial debt and ends up leaving a man to die, beating his wife to death with a shovel, and bludgeoning Maxine Peacock to death on her mother's birthday.
Richard Hillman is a great example of a gradual evolution of evil. Hillman starts off as nothing more than a poor financial advisor with a bad grasp of the trouble he's in. Hillman doesn't kill because he likes it, but because he convinces himself that he just has to do this one horrible thing and then everything will be ok. He lurches from one disaster to the next and is barely managing to juggle everything; Richard Hillman is not an evil genius, he's a bungler. He doesn't even start off as a murderer, he leaves business partner Duggie Ferguson to die and kills his wife out of anger, even Maxine is killed on the spur of the moment when she interrupts him trying to kill Emily Bishop so he can sell off her house. Hell, he doesn't even manage to kill Emily, and she's in her 70's and asleep on the sofa!
Richard Hillman was a big hit at the time, pretty much plastered every copy of the tv times for months, and it seems like the producers and Brian Capron himself bought into the hype. It certainly explains Gail's labelling of Hillman as 'Norman Bates with a briefcase' and Capron himself famously wanted to deliver his final line to Maxine Peacock "You should've stayed at the party Maxine" with a twisted, Freddy Kreuger style slasher smile instead of with the slight degree of reluctance and sadness that we get. He really is the first of that new, supervillain style of soap villain, he's probably one of the most influential characters in British soap and he's actually quite an interesting character, certainly deserving of a place on this list.
3) Roy Cropper (David Neilson, 1995-Present) AND Hayley Cropper (Julie Hesmondhalgh, 1998-2014)
Obviously, I had to put one of the shows most iconic couples together, how could I not. Roy Cropper was initially introduced in 1995 and intended as a creepy, villainous character, but due to the influence of actor David Neilson, Roy became an anorak wearing, trainspotting, oddball with a strong moral compass and sense of honour. 3 years later, Hayley was introduced as a love interest for Roy and, as a transgender character, made soap history. While you can absolutely debate Coronation Street's motive for introducing the trans aspect and the fact that a cis actress is playing a trans character, what you cannot deny is that this storyline had a long-term and an overwhelmingly positive impact on LGBT acceptance. The impact of Hayley Cropper and the respect the actress and producers showed to the trans community is a large part of why I like both these characters, but there is another.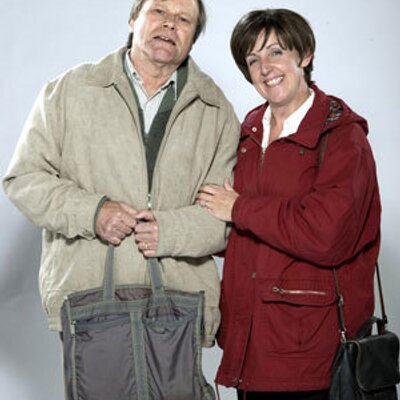 Roy and Hayley are good, empathetic, intelligent, moral people. A recurring theme for the couple is their desire to have a child, and while they often get close, they never fully succeed before Hayley takes her own life in 2014 to avoid a slow decline due to terminal cancer. Despite not having a child, Roy and Hayley act as surrogate parents to a number of characters, including Fiz, Sarah, and Chesney and, in some ways, have a parental role in the street, with characters going to them to seek advice and falling back on them in hard times. Roy and Hayley Cropper are important characters in the history of soap, but more importantly, they're just good people.
2) Bet Lynch (Julie Goodyear, 1966, 1970-1995, 2002, 2003)
Ok, confession time. I only recently discovered the Coronation Street icon that is Bet Lynch. In fairness, I was born in 1994, missing the bulk of her time in Coronation Street, and her return in 2002 and 2003 consisted of only a few episodes. Actress Julie Goodyear is really the main reason Bet Lynch is on this list at all, let alone so highly. Her performance is excellent, Bet comes across as a woman you could happily sit and talk with, you could pour out all you're problems and she'd tell you to hang on in their and get you a drink while she lights her fortieth cigarette. She'd fight your corner, she'd laugh with you, give you advice, be the best of allies or the worst of enemies; she's a classic pub landlady type.
Julie Goodyear famously brought a lot to the role of Bet Lynch, buying her own costume, walking around Salford with Coronation Street creator Tony Warren, looking for women who were 'real live Bets' and taking inspiration for her costumes. Bet Lynch is oddly stylish. I know, that sounds ridiculous given the above picture but, oddly enough, I think her style fits her. Actress Julie Goodyear compared the fashion of Bet Lynch with the Blackpool illuminations; tacky and tasteless and something that wouldn't work if paired with anything else other than Blackpool. Bet Lynch makes that fashion work, I don't know how but she does.  Apparently, she also used to get earrings from children, who would send her cheap pieces of jewellery in fan-mail and Goodyear made a point of wearing them as soon as possible so they could see them on screen and know she'd gotten their letters. That's really sweet. I may not have grown up with Bet Lynch but I can see why she's such an iconic character, she's larger than life, the perfect landlady, and portrayed by a kind and insightful actress, Bet Lynch is easily one of my favourite Coronation Street characters.
1) Fred Elliott (John Savident, 1994-2006)
Now, while Fred Elliott is regarded as one of the most popular Coronation Street characters, he's never been seen as THE most popular character. Until today. I have always felt that the three major British soaps can be divided as this; Eastenders is the dark on, Coronation Street is the funny one, and Emmerdale is the boring one. Strictly speaking that may not be true but it is correct that Coronation Street has always celebrated the comedic streak that runs through its heart, and Fred Elliott is one member of a proud tradition of character supporting that streak. John Savident has a real talent for comedy, his physical movements are over-the-top but fit the tone of the character perfectly, and his vocal tic became an iconic bit of Corrie humour.
Fred Elliott was a likeable character too, almost becoming a bit of furniture at the Rovers Return, and though his storylines were few, he was a welcome addition to every episode. The real appeal of Fred Elliott is that, to me, he sort of represents what Coronation Street really is. Fred is a simple man. Most of his storylines focus on his romantic woes and his habit of proposing to pretty much every woman he knows. He becomes landlord to please his wife, despite knowing little about the business and wanting nothing to do with it, he's a proud Northerner and a stalwart of the community. In short, he's the warm and simple side of Coronation Street made flesh. I don't know, I can't really explain it. There's just something very warm and enjoyable about Fred Elliott, I've watched a fair number of episodes on YouTube and I suspect at least 60% of them feature Fred Elliott in a major role. He didn't change anything about soaps like Hillman or Haley Cropper, he isn't nearly as iconic as Bet Lynch, he's just a fun character and he's my favourite Coronation Street character.
So, there you have it. My top five favourite Coronation Street characters. Was yours on there? Do you disagree with my choices? Let me know who your favourite character is. We can have a debate in the comments about who'd win in a fight between Blanche Hunt and Elsie Tanner.